Affordable Stump/Brush Removal and Lawn Work
Rototilling of Gardens & Lawns
Also Check our Tick and Mosquito Be Gone Service here.
The essential first step to and stump grinding project is to obtain Dig Safe approval! We always CALL FIRST for your safety and everyone's. DigSafe.com Dial 811
Call to Dig Safe® at 811.
Serving the Connecticut, Massachusetts, Rhode Island area (list HERE)
Specialized expert in Stump Grinding
No job is too big or small
Reliable & trustworthy
Prompt, fast & personal service
Fully Insured
Quote and complete job on first call out
Same day service is available (after Dig Safe call 811)
Our no obligation quotes are guaranteed
Client discussion on depth of grinding upon quotation


---
About brush hogging
Rid your yard of that pesky brush and weeds!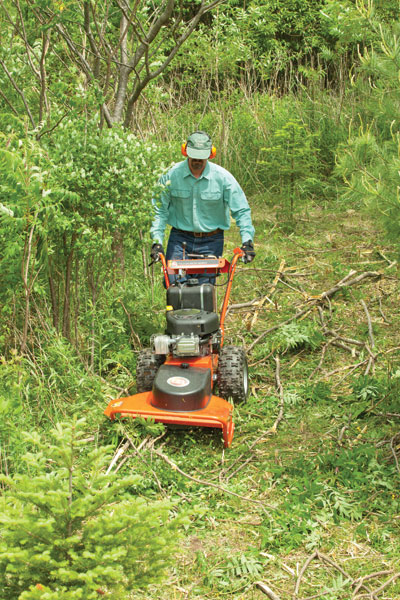 Bush wacking, hogging, brush removal… called by many names. A brush hog is a type of rotary mower. Typically these mowers attach to the back of a farm tractor using the three-point hitch and are driven via the Power take-off (PTO). It has blades that are not rigidly attached to the drive like a lawnmower blade, but are on hinges so if the blade hits a rock or stump, it bounces backward and inward, and then inertia makes it go outwards again. The rotary blades are not sharpened in the same way as a conventional mower blade. They are usually quite dull so they whack through dense plant growth, whereas a sharp blade often gets stuck or slowed down. The blades are very heavy, up to an inch thick, so the momentum pulling out is stronger than the forces of the vegetation bouncing in. They are made of heat treated high carbon steel that can withstand strikes with hard objects such as rocks and stones.